See on Scoop.it – Landlord tips and housing news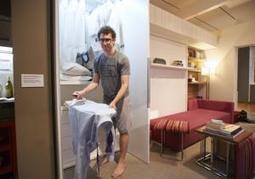 My wife and I are intimate again — thanks to the Bloomberg administration's latest housing initiative.
Lori Hartjoy's insight:
I've been following the micro apartments since they started rolling out the articles and photos. To be honest, I'm not much impressed with the 'affordability'. Yes, you save on space, can cram more families into tight quarters and while in some cities save a little off your rent, I'm not sold. The cost of the special furnishings to fit into these tight spaces are very expensive compared to the 'norm'. I'll continue to watch this trend and see if it gets any better in the coming months/years. What is your take?
See on www.nydailynews.com